Intwasa Extra, taking place from the 28th to the 31st of December 2017, is a spill over program from the main Intwasa Arts Festival koBulawayo that takes place every year during the month of September in the city of Bulawayo. The four day arts extravaganza coming under the theme "Celebrating a New Era" is basically a festive season festival bonus prepared especially for regular festival audiences and those that missed the September fiesta. Intwasa organisers are also using this opportunity to bring the comedy night which, due to unforeseen circumstances did not take place in September. But most importantly it is to celebrate Zimbabwean people's resilience against hardship and welcoming the new feeling of hope that has engulfed the country. Intwasa Extra is using about five arts genres, namely theatre, music, poetry, comedy and arts and craft to celebrate with the rest of the country.
The objectives of the four day Extra are:
1. To celebrate human creativity and diversity
2. To empower women and young people through the arts
3. To provide new markets and collaborative opportunities for local artists and technical people
4. To welcome and celebrate the new era Zimbabwe has just entered.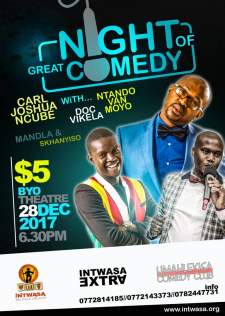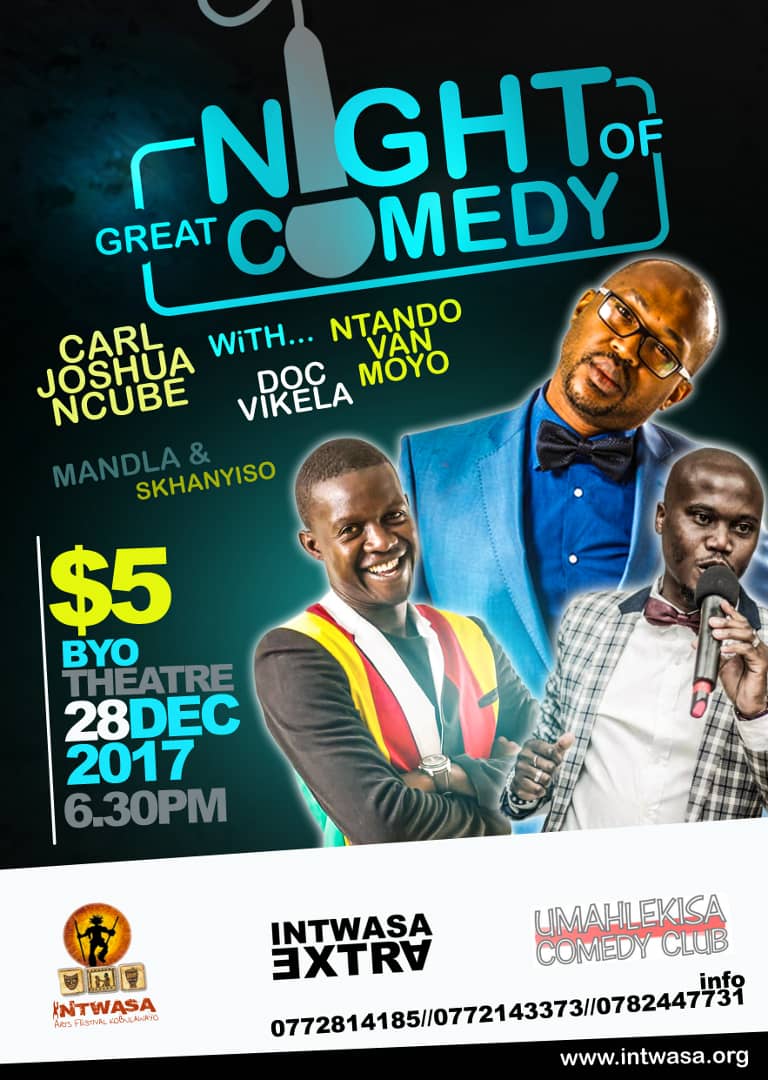 The Night of Great Comedy features a strong line-up of local comedians who, throughout the year, have been at the top of their game pushing the genre of comedy in and outside Zimbabwe. The impressive line-up includes the globe-trotting and trend setting Carl Joshua Ncube, the evergreen Doc Vikela, Bulawayo Arts Awards comedy winner Ntando Van Moyo, Mandla Simbarashe & Sikhanyiso. The growth of comedy in Zimbabwe has mainly been driven by these comedians. Expect new jokes and fireworks. Watch them live as Bulawayo counts down the year 2017.
One of the highlights of this year's Intwasa Arts Festival performances
was Umkhathi Theatre's performance of the history inspired Ihloka. The play was written by Thabani Hillary Moyo and directed by Matesu Dube. Ihloka is a sensationally provocative and emotive piece inspired by the Ndebele uprising of 1956 against Cecil John Rhodes and white colonialists. It is back by popular demand and a must see for those that love a powerful story.
The Arrangement, a new theatre piece premieres on the 30th of December 2017, also at Bulawayo Theatre. This is Raisedon Baya's
fast paced and witty re-imagination of Ganesh Bagshi's 1950's story about young love pushed into a corner and deciding to fight back and claim its rightful place. Set in Zimbabwe, post GNU, the play is imaginatively brought to life by a young and dynamic cast under the Centre for Talent Development.
Also on the line-up, for theatre lovers is stage play by Mgcini Nyoni
entitled Walk With Me, a collage of women's stories of love, pain, despair and triumph in life. The play features actresses Busie, Loisianna and Tendayi and premiered on the 25th of November at Bluez Café.
One of the highlights of this extravaganza is the ever popular Women, Wine & Words with a new line up of lead performers in the form of singer & guitarist Tariro Negitare, rising star Thandi Dlana, all women ensemble Phakama Mfazi and N!A, all supported by poets Xtreme, Lady Profound, Blackpearl amongst others.
For those looking for something uniquily Zimbabwean to buy for family and friends, there'll be an Arts & Craft Market which will be held at the National Gallery in Bulawayo together with the Open Mic Poetry session mainly for young and aspiring poets which will be held under the theme "My Zim Vision". So much has been said about the new era in our nation, we get to hear what poets have to say about the new Zimbabwe.
Some of the guest poets who will perform are Madzitatiguru, Izwi, Cypher & Asa, Raelyric (Hre), Graves the Prodigal Sun (Hre) and others. This event is in partnership with Patsime Trust, Pamberi Trust and Arts Hub Zimbabwe.
Rounding up the program is the All White Party, our laid back event to welcome the new year. Please come through, bring your family, friends and enjoy with us.
For more info, tickets get in touch with us via email on [email protected] or call us on +263 772 814 185, +263 782 447 731, +263 772 214 373
#IntwasaExtra